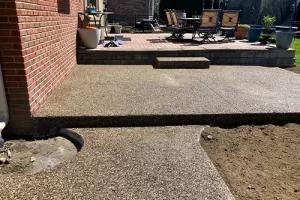 Exposed aggregate is a type of finish for concrete surfaces, its considered decorative concrete. We remove the top layer of cement paste to reveal the underlying decorative aggregate. The aggregate is made up of various materials such as pebbles, shells, crushed stone, or even recycled materials like glass.
There are several types of exposed aggregate finishes available in the market, each with unique properties, strengths, and weaknesses:
Monolithic Aggregate: This type is where the fancy rocks and materials are mixed into the concrete before it's poured. This mix consists of cement, water, sand, and aggregate, which can be chosen based on color, size, and type, depending on the desired look.
Seeded Aggregate: This involves hand-placing additional aggregates onto the surface of the freshly placed concrete. And placing aggregate allows for many options but may not be as durable as monolithic aggregate.
Overlay Aggregate: We apply it to an existing concrete surface. So it's a good option if you want to upgrade the look of your current concrete surface, but it may not be as durable as the other options.
Benefits of Exposed Aggregate Concrete:
Exposed aggregate concrete offers several benefits, including its beauty and visual appeal, and it is slip-resistant, durable, and low maintenance. It's also highly customizable, allowing you to choose the aggregate's type, color, and size to match your design needs.
Applications of Exposed Aggregate Concrete:
It's common to find aggregate concrete in driveways, patios, pool decks, sidewalks, and other outdoor areas. It's also common in commercial settings for its durability and easy maintenance.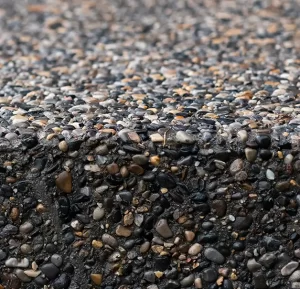 Finishing Options and Customizations:
You can finish exposed aggregate concrete in several ways. These finishes include brushing and washing, using a surface retarder, or abrasive blasting. The finish affects the level of exposure and the appearance of the aggregate. You can also customize the look by choosing the aggregate's type, color, and size.
Maintenance of Exposed Aggregate Concrete:
Regular cleaning, sealing, and occasional pressure washing are all needed to maintain exposed aggregate concrete. But it should get a fresh sealant every few years to protect the surface and enhance the color (e.g., keeping it decorative concrete). As such, the specific upkeep depends on the type, color, and your contractor's upkeep advice. See below.
Selecting Exposed Aggregate Concrete:
The choice of exposed aggregate concrete depends on the project's expected traffic, durability, and sustainability requirements. So, the monolithic aggregate may be the best choice for high-traffic areas for its durability. And Seed or overlay aggregate may be best if looks are a key factor or matter a lot to you.
Remember, consulting with a concrete professional is always advisable to ensure the proper selection for your specific project needs; give us a call to schedule your free estimate now: (248) 924-9798. We have more than 200 tons of regular and decorative concrete poured over the years and a decade of hardscape and landscape design experience.