This article will guide you through creating the perfect fire pit area for your outdoor gatherings. We'll cover everything from choosing the right location to setting up seating, lighting, and decor. So, let's get started!
Location is Key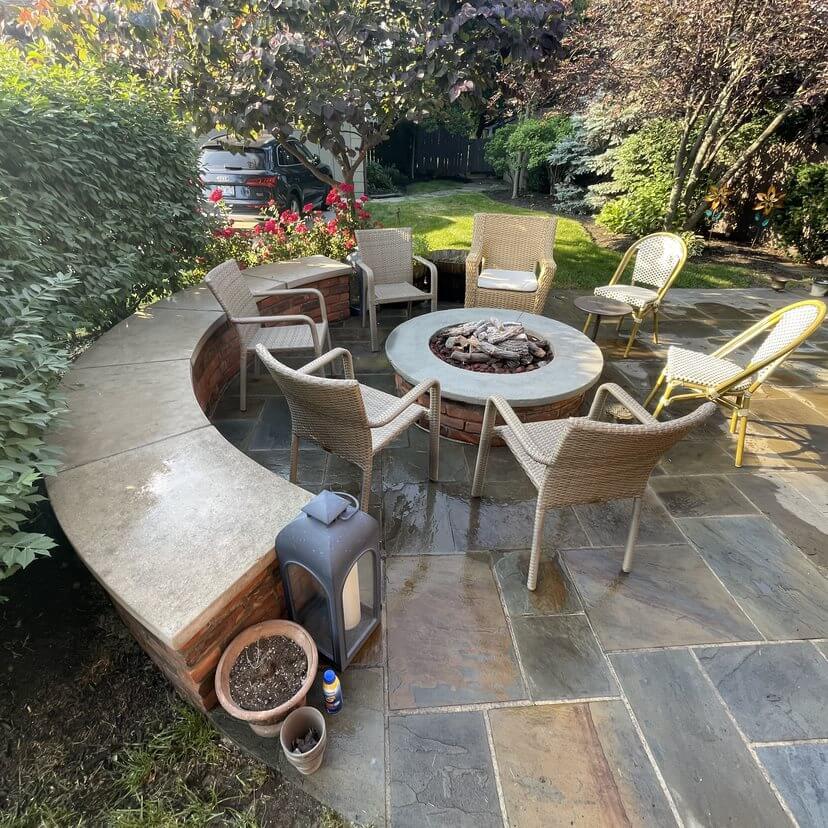 You'll want to consider the surrounding environment when choosing the best location for your area. It should be in a place that is centrally located. But Not close to any combustible materials, such as trees or wooden structures. A solid, level surface is also crucial for the safety of your fire pit area.
One thing that's commonly overlooked when building one is what's above you. Look up! It has to be in a clearing, without trees, wires, or electrical cables hanging over the heat zone. You don't want to start a fire in the trees or melt your electrical lines.
What's the best shape for a fire pit?
There are many different shapes, including circular, square, rectangle, or something different. But one thing is to ensure plenty of space for seating around it. Ultimately, the best shape will depend on you and the specific requirements of your outdoor space. While each shape has pros and cons, homeowners must consider other factors like the landscape, seating, style, and use when selecting the right shape. Remember, the best form is the one that brings you joy and provides the best fit and function for your outdoor living area.
Read more about Fire Pit Shapes
Comply with Local Regulations
Before building your fire pit area, you must know and comply with local fire safety regulations. Some areas may require specific permits, an outdoor fire permit, and a certain fire distance from any dwelling.
When setting up an area for outdoor gatherings, it's essential to keep in mind the local fire safety regulations to ensure the safety of your family, friends, and property. These regulations vary depending on the city, county, or state laws, so doing your research beforehand is highly recommended. Municipalities and homeowner's associations may require a fire pit permit in your backyard, which usually includes an inspection and certification.
Another critical regulation to consider is fire distances. Most fire codes require fire pits to be 10 to 20 feet from the house, fence, or other combustible structures. It should be on level ground. It's best on a natural surface like dirt, sand, or stone. Be sure to have a fire extinguisher or water source nearby in emergencies.
Select the Right Materials for your Fire Pit
When choosing materials for your fire pit area, selecting quality materials that can withstand high heat and weather is essential. Below is a list of the regular options:
Concrete: Concrete is an excellent material for constructing durable fire pits. It allows for customizing the appearance. And it can be easily molded into different shapes and sizes. It is also relatively inexpensive and is easy to maintain. It will not rust, and it can withstand heat from longtime usage.
Stone: Natural stones are an ideal material. They offer high heat retention. And can withstand prolonged exposure to high temperatures. Some popular types of stones are granite, limestone, and flagstone can create a timeless and classy look. At the same time, river rocks can give a rustic and natural look. They also offer various textures that can add depth and interest to your design.
Stainless Steel: Stainless steel fire pits are a strong, lightweight option for outdoor use. They are resistant to extreme temperatures, corrosion, and rust, making them durable. Stainless steel can give your fire pit area a modern and sleek look while being easy to maintain.
Cast-Iron: Cast-iron fire pits are popular due to their classic and elegant look. They are also a durable option and can withstand high temperatures. Cast iron also enhances the heating efficiency by radiating heat that generates more warmth.
Brick: Bricks are a cost-effective and versatile material for constructing fire pits. They are durable and easy to maintain. When arranged creatively and appropriately, they can look classic and timeless in outdoor spaces.
Designing Your Fire Pit Seating Area
A well-designed seating area around your fire pit should be comfortable and functional. They create an incredible ambiance best enjoyed while sitting in comfy chairs or cushions. The seating should be set up to promote conversation and allow for a clear line of sight of the fire pit.
Enhancing the Atmosphere
Consider putting lighting, music, and outdoor decor. It will make your space as inviting as possible – make people want to sit by the fire. Lanterns, string lights, and torches are a great way to bring soft lighting to any outdoor space, creating a cozy atmosphere. Music can add to that sense of relaxation, while outdoor decor visually enhances the overall experience. You can personalize the set to match your style and preference.
Maintaining Your Fire Pit Area
Proper maintenance is necessary to keep your fire pit area in excellent condition and extend its longevity. One of our key maintenance tips is to clean up the area after each use, removing any debris that could be fire hazards. However, remember to allow your pit to cool down first. Cover it to avoid fallen leaves, debris that can enter, and rainwater, which causes the pit to rust.
Check out these cool fire pit designs.
In conclusion, a well-designed fire pit area can be the perfect addition to any outdoor space. Nothing is more enjoyable than spending hours in a warm fire pit surrounded by friends and family. With a bit of consideration for safety and landscape, combined with the perfect seating, lighting, and decor, you can create an outdoor space that is aesthetically pleasing and welcoming for all gatherings. Following the tips we have covered today, you'll be well on your way to the perfect fire pit area that will provide joy and comfort for years.