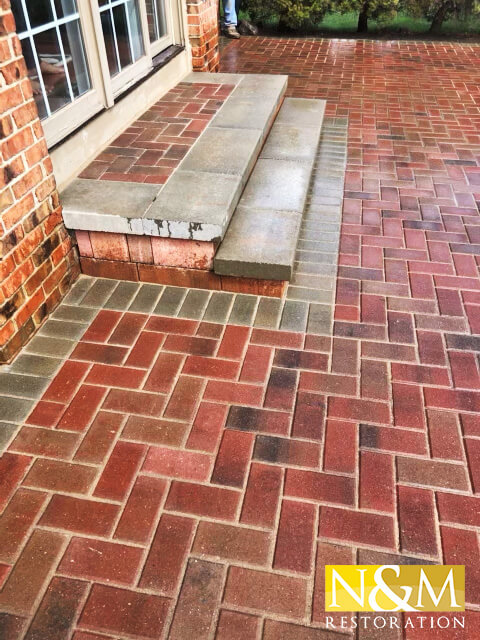 Precision brick paving with a strong attention to detail – that's what we provide here at N&M Restoration. Our amazing craftsmanship is evident in everything we do, from brick paver driveways to stone retaining walls and more. Let us help you transform your exterior spaces. We offer…
Residential Brick Paving and Commercial Brick Paving in Grosse Pointe Farms MI
Brick Paver Sealing to Bring out the Rich Texture of the Pavers
Stunning Brick Paver Designs That Perfectly Complement Your Home
Restorative Brick Paving for Damaged Areas
Brick Paver Driveways, Patios, Sidewalks, and Outdoor Areas
Granite Pavers, Stone Pavers, Porcelain Tile Decking, and More
And Other Brick Paving Services
If you'd like a consultation for brick paving in Grosse Pointe Farms MI, contact us at (586) 350-5824. We can schedule a time that works well for you.
Are Brick Pavers Cheaper Than Concrete?
Brick paving and stamped concrete are both great options for exterior spaces. Some clients choose stamped concrete over brick pavers because it is slightly less expensive, but there are other factors to keep in mind. Pavers typically last longer than concrete because they are less susceptible to cracking. It's easy to repair a paved brick service, and it has a classic look that stands the test of time.
Brick Pavers Are Much Easier to Repair Than Concrete
Brick Pavers Are Highly Durable and Can Be Customized in Nearly Any Design
Brick Pavers Have an 'Expensive' Reputation, Which Could Boost Your Property Value
You'll Always Get Fair, Honest Pricing from N&M Restoration
Whether you want decorative concrete or brick paving in Grosse Pointe Farms MI, you can count on N&M Restoration. Give us a call at (586) 350-5824 to schedule a quote.
Ask about Our Other Hardscaping Services in Grosse Pointe Farms MI
Brick pavers aren't the only option to beautify your property. You may want a floating tile deck or a natural stone retaining wall. N&M Restoration provides a wide range of hardscaping services, with personalized solutions to fit your needs. We can go over all your options during your one-on-one consultation.
Call (586) 350-5824 to Schedule a Consultation for Brick Paving in Grosse Pointe Farms MI