A Premium Brick Paver Contractor in Grosse Pointe.
Elevate your property's aesthetic appeal and value with our premium, long-lasting brick pavers. At N&M Restoration, we offer a vast array of brick designs, hues, and patterns that allow you to create a custom design that matches your vision and enhances your property's grandeur. We take immense pride in offering top-notch brick paver service in Grosse Pointe. Our team of professional brick pavers is adept at transforming outdoor spaces such as gardens, patios, verandas, or driveways into stunning, inviting spaces that you'll be thrilled to spend time in.
We cater to both residential and commercial properties in Grosse Pointe, providing bespoke Designs that seamlessly blend beauty and durability to enhance your property's curb appeal. Our comprehensive services include Brick Paver Repair and Color-Matching Replacement to ensure continuity and consistency in your outdoor design. Additionally, to safeguard your investment against the elements, we provide a Brick Paver Sealant designed to protect against rain and harmful UV Rays. And for those seeking a unique touch, we also offer Stamped Concrete, a popular and beautiful alternative to traditional Brick Paving.
Michael Georges
April 18, 2023
We had N&M remove an existing concrete patio and then install paver stones. The entire process from getting an estimate, to design, to completion was very easy. Any questions were always quickly answered. The patio looks great and we are very happy with the finished product. A couple things they did that I appreciated was they removed an old drain pipe from a gutter going into the ground and replaced it with new pipe going out into the yard (about 20 ft) away from the bricks. This was not in the quote and they did not charge anything for this. They also leveled out the patio to the yard with dirt and then seeded it. They also placed dirt and seed in areas around the driveway that they were not even working around. I would use them again if I need any more work done.
Marc Decourcy
March 24, 2023
So happy with this company . I am an employee here and I can tell you that we as a team and I personally believe that the work we do for our clients is the best . I'm proud to work here and see the creations we build and it's a good feeling !
Jamie Slotkowski
March 18, 2023
Had some work done from this company last year as a referral contractor that we could trust. We used them for a concrete patio and everything went smooth. There were lots of people that showed up after the permitting went through. Too many workers throughout the day to even take a count. Always polite, and courteous. The driveway and patio were done within a day and it was worth it. Previously, we had a lot of water buildup near our door, and around the garage. This problem no longer exists. The patio was finished before days end, and even stamped. When they were down, we finished with a Behr acid stain kit from Home Depot . We were then finally, able to enjoy our season on our new patio. A huge thumbs up to N&M Restoration and their crew. I highly recommend them.
Amarjeet Gill
January 17, 2023
Nice people. U can enter from Groesbeck and exit from helle. I had bunk truck , moved my tandems all the way to the front while exiting from helle. Look for overhead wires when entering the premises.
Dick Rappleye
September 25, 2022
Very competent and responsive organization - clearly a professional company. Researched past clients and visited sites - those clients were very satisfied. Finally gave go ahead for sea wall project on Friday - they were there Monday and done by early Wednesday … very impressive. Work was well supervised and suggestions for added improvements were appreciated. I may have need for future services, and would not hesitate to use N&M.
Pete Lawall
September 14, 2022
I was looking for a concrete contractor to check and quote a large side door porch. The concrete blocks supporting the slab were crumbling. I called N&M and talked to Tom and explained that we were looking for a repair and not a rebuild. They sent Corgan out to inspect and quote the next day. After some discussion, we agreed on an action plan and price. Tom quoted 2 weeks for them to start, but in a couple of days they were delivering material and began work. I talked with Carlos during the work and he was very helpful answering my questions. It took them 2 days to complete and was done exactly as we discussed. In all, I was happy with their responsiveness and the work. I would definitely use them again!
Nate and his crew were great, they made sure the quality was on point and that I was satisfied with all aspects.
Take a look at some of our recent work.
Our portfolio extends beyond just brick paving. We offer various other services designed to cater to all your outdoor design needs. To learn more about how we can help transform your outdoor spaces, contact us at (248) 924-9798 and arrange an estimate.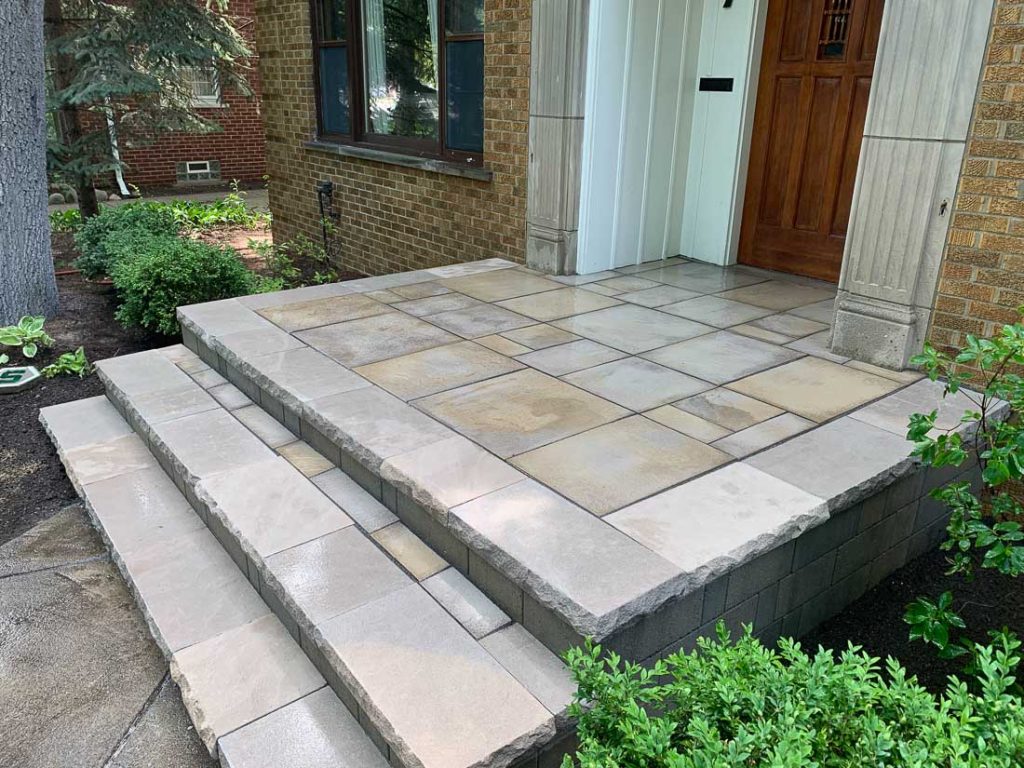 Brick pavers are versatile and resilient, making them an ideal choice for nearly any outdoor surface. They are designed to withstand UV rays, heavy rainfall, and regular foot traffic. To extend the lifetime of your pavers, we recommend our brick paver sealing service. This protective barrier improves strength and maintains the vibrant color of your bricks for years to come.
Our broad range of brick paving services includes:
Walkways and Porch Approaches
Patios and Outdoor Entertainment Spaces
Pool Surrounds or Exposed Aggregate Concrete
Sidewalks
Granite Pavers, Travertine Pavers, Tile Pavers, Concrete Pavers, and Much More
Paver Borders for Concrete Structures
And a plethora of other customizable Brick Paving Options
To learn more about our brick paving services in Grosse Pointe, call N&M Restoration at (248) 924-9798.
At N&M Restoration, we are known for our superior craftsmanship and commitment to great work. Whether you require epoxy floor coating, basement waterproofing, brick repair, or brick paving in Grosse Pointe MI, you can trust us to deliver results that exceed your expectations. Our high referral rates reflect our dedication to customer satisfaction. Our clients appreciate the quality of our work and want others to have the same positive experience. Contact us today to discover the difference N&M Restoration can make to your property!
We service all of the Grosse Pointes.