STAMPED CONCRETE IS IMPRINTED TO LOOK LIKE STONE OR BRICK
Imprinted concrete is another term for stamped concrete. It can look like stone, brick, tile, wood, or another material. The concrete is a thinner consistency than traditional concrete, allowing for a smoother finish and better stamping results. To fit our clients needs we can customize it. Also, it typically costs less than brick pavers or natural stone.
HOW STAMPED CONCRETE WORKS
Concrete stamping varies slightly. Where and how causes the variable. The general process goes as follows:
Get an in-person consultation with a contractor in your area. This person will look at your property and where you want the concrete to assess the full scope of the project.
Receive a sample booklet that shows different color combinations and stamp patterns to choose from. This way you'll be able to look at sample looks from popular combinations to see what will look best on your property.
Choose the color and style you want. We pre-mix the base color into the concrete before it arrives on the job site.
We pour the concrete. We then leave it to dry slightly. The concrete needs to be somewhat soft for stamping, but if it's too wet, it will not hold its shape.
We add an accent color to the top of the concrete to provide extra depth and dimension. We call this process a "release color"
We then imprint the concrete with your design choice.
We seal the concrete to enhance and preserve the structure. Be sure to reseal every 3-5 years.
At N&M Restoration, we add new topsoil around the stamped concrete to finish off the look. Most concrete companies do not offer this service.
It takes about a month for the stamped concrete to fully cure, depending on the weather. However, you can drive on an imprinted concrete driveway within two weeks. We will explain all of this when we apply your new concrete to ensure it lasts for years to come.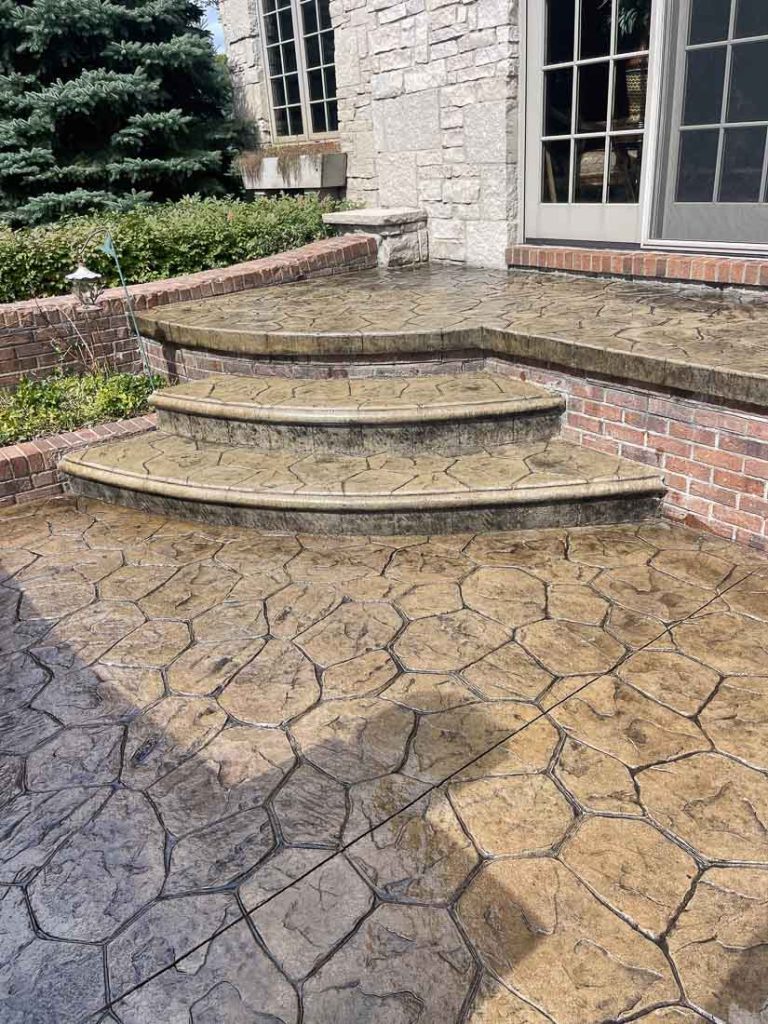 CAN I GET IMPRINTED CONCRETE OVER EXISTING CONCRETE?
You can get imprinted concrete over existing concrete. That concrete must be in good shape though. In this case, we apply a special adhesive to bond the new concrete with the old concrete. Which then we stamp the concrete overlay. We can also repair or replace any existing stamped concrete. N&M Restoration offers concrete repair, concrete replacement in Michigan.
IS STAMPED CONCRETE RIGHT FOR YOU?
This is a great option for many homes and businesses. However, there are some drawbacks though, especially in an area where concrete is likely to crack from foundation shifting. Never the less, our experts will help you determine if stamped concrete is right for you, or if you'd be better off with a service like brick paving. Contact N&M Restoration at (248) 924-9798 to schedule a no-obligation consultation.