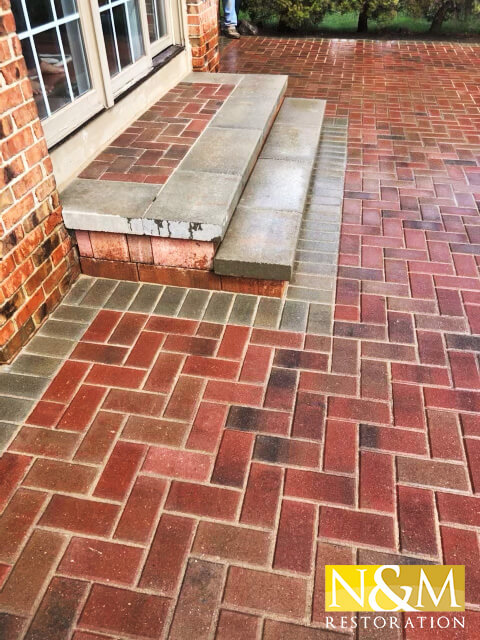 Ready to transform your boring patio into a stunning showstopper? Want a grand staircase leading to your home? How about a beautiful hangout area for visitors on your commercial property? This is all possible with the power of brick pavers.
N&M Restoration is excited to offer brick paving in Royal Oak MI. Enjoy a variety of premium services, including:
A Huge Selection of Brick Pavers
Slate Pavers, Granite Pavers and Stone Pavers
Travertine Pavers and French Patterned Pavers
Concrete Pavers
Flamed Pavers and Tile Pavers
Color-Matched Brick Paver Repair
And Countless Other Options for Brick Paving in Royal Oak MI
If you'd like to discuss your brick paving options, please contact us at (586) 350-5824. We can arrange an in-person consultation at a time that fits your schedule.
Explore the Endless Possibilities with Brick Paving
There are many different ways to use brick pavers on your property. Some people use them to enhance concrete surfaces, while others opt for large-scape brick paver applications. We can help you find the ideal design for your home and overall needs.
Patios and Driveways
Fire Pits, Barbecues and Outdoor Seating Areas
Walkways, Garden Paths and Sidewalks
Pool Surrounds
Brick Paver Borders for Decorative Concrete
Brick Paver Sealing
And Many Forms of Residential/Commercial Brick Paving in Royal Oak MI
Call N&M Restoration at (586) 350-5824 to learn more about brick paving opportunities. You'll receive a custom design plan that's perfectly tailored for you!
Need Other Hardscaping Services? We've Got You Covered!
Brick pavers aren't the only hardscaping options on the market. In fact, they only represent a portion of the work we do in Royal Oak MI. You could get a beautiful stone staircase with irregular steps leading to your exposed aggregate pool deck. You could solve drainage problems in your yard with a dramatic paver retaining wall. From stamped concrete to tile decking and beyond, N&M Restoration has an exterior service for you. Reach out today to learn how we can create the oasis of your dreams.